How do you facilitate suspect interviews? Where did you learn your techniques from? Education is crucial to consistently advance your skills in any field. We asked law enforcement professionals with backgrounds in investigative and interrogation work to contribute tips.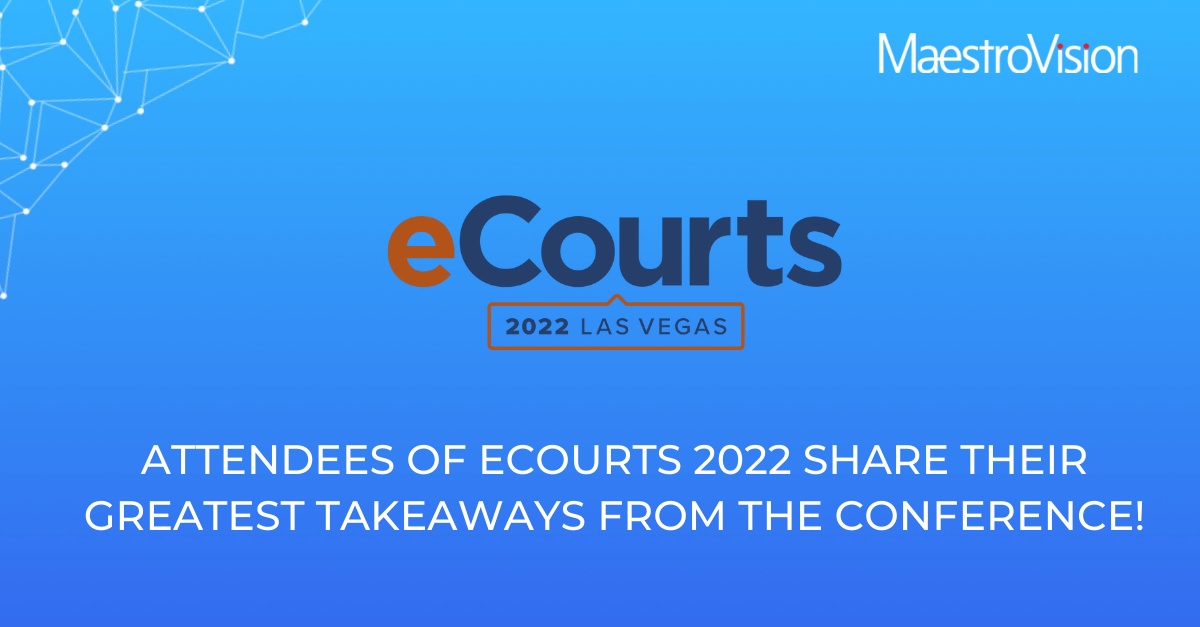 The eCourts conference is designed to feature education sessions with the most in-depth and current information that address the technology needs of judges, court managers, technologists, and other court professionals. eCourts also has earned a reputation for hosting one of the most effective exhibit shows available.
This year, MaestroVision exhibited at eCourts to present our state-of-the-art court recording systems.
We wanted to get feedback from the attendees and presenters on their greatest takeaways from the conference. See what they shared with us below!
2. Shanice Joseph
Court Clerk at Supreme Court of Judicature Guyana
AI can change the face of our judicial systems in a way that it will be more diverse and will cater to the needs of our customers, which will impact on the dispensation of justice in an equitable manner.
3. Tami Migan
Office Manager, Virginia Township Justice Court
I enjoyed the entire conference.  Lots of new ideas to try to implement.  We are reviewing the many vendors with new ideas of how to expand our accessibility to the public.   The best speaker/presentation I believe was Judge Schlegel.  He was enthusiastic and informative.  It really brought to my attention how AI is here and rapidly growing in every industry. I am looking forward to the next conference in 2 years to see how far we've advanced.
4. Michael A. Saini
Factor-Inwentash Chair in Law and Social Work, University of Toronto
The biggest takeaway for me from the eCourts 2022 Conference is the enthusiasm and continued movement towards evidence-informed decision-making, including triage in the courts to provide services based on differential case management systems.
5. Dr. Artika Tyner
Law Professor at the University of St. Thomas School of Law
The pursuit of diversity, equity, and inclusion (DEI) is a call to action manifested through an exercise of leadership. Over the past decade, I have had the honor and privilege of traveling around the world on this quest of building a more just and inclusive society. My opening keynote address explored the strategies needed to serve as an inclusive leader. This is both a challenge and an opportunity. This leadership challenge explores the question: "What is in your hands to make a difference in the world?" Yet, there is an opportunity to uphold the values of fairness, equality, and access to justice and serve as a public citizen who seeks "improvement of the law, access to the legal system, the administration of justice and the quality of service rendered by the legal profession" (ABA Model Rules of Professional Responsibility).
My Leadership Framework for Action© provides a blueprint for building the essential leadership competencies rooted in the principles of DEI, which manifests in bridging the access to justice gap, leveraging technology for change, and promoting the betterment of society. There are four dimensions of learning: intrapersonal (engaging in self-discovery), interpersonal (building an authentic relationship with others), organizational (establishing strategic outcomes and promoting equity), and societal (developing sustainable, durable solutions). I focused on the organizational strategies for utilizing technology in the courts to advance inclusion. Technology can help us serve the needs of underrepresented clients (BIPOC, low income, rural), make the court experience more accessible, increase probono services, and identify patterns of bias. This is a call to action— a call to inclusive leadership.
What was your greatest takeaway from the eCourts 2022 conference? Submit your response to info@maestrovision.com and we'll feature your submission on this article!