Description
HDL-MULTIP6G/04
Blackmagic MultiView 4 HD is a multiviewer that lets you simultaneously monitor 4 completely independent SDI video sources on a single display! You can monitor any combination of SD and HD formats and frame rates, all at the same time. Each view can display overlays with information such as custom labels, audio meters and more. MultiView 4 HD has both SDI and HDMI outputs for monitoring on professional SDI displays, projectors or even big screen televisions!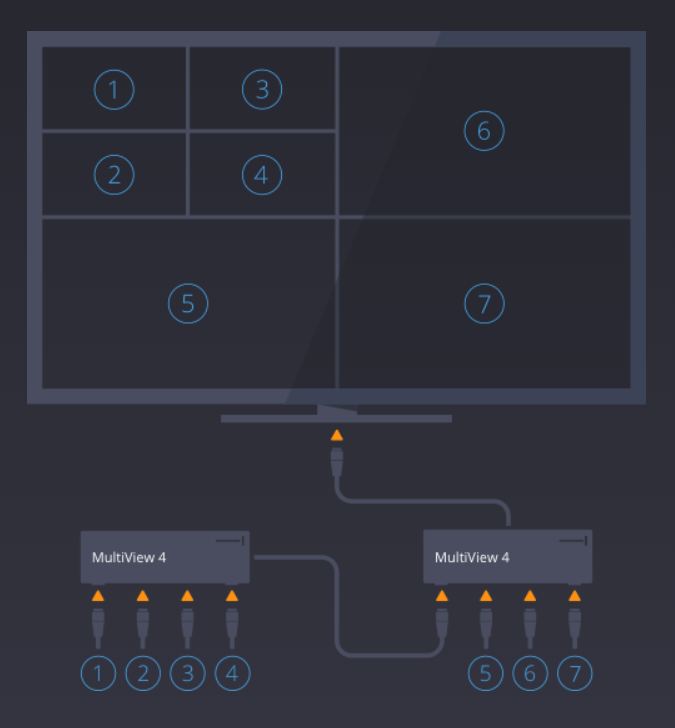 Connections
SDI Video Inputs
4 x 10-bit SD-SDI and HD-SDI.
SDI Video Outputs
1 x HD-SDI.
SDI Rates
270Mb, 1.5G, 3G.
SDI Video Multi View Outputs
1 x 10-bit HD-SDI.
HDMI Video Multi View Outputs
1 x HDMI type A connector. Output supports EDID of the monitor.
SDI Reclocking
On all SDI outputs, auto switching between standard definition or high definition.
Reference Input
None
Multi Rate Support
Auto detection of SD or HD.
Updates
USB 2.0 high speed (480Mb/s) interface.
Configuration
USB 2.0

Standards
SD Video Standards
525i59.94 NTSC, 625i50 PAL
HD Video Standards
720p50, 720p59.94, 720p60, 1080p23.98, 1080p24, 1080p25, 1080p29.97, 1080p30, 1080p50, 1080p59.94, 1080p60, 1080PsF23.98, 1080PsF24, 1080i50, 1080i59.94, 1080i60
2K Video Standards
2K DCI 23.98p, 2K DCI 24p, 2K DCI 25p
SDI Compliance
SMPTE 259M, SMPTE 292M, SMPTE 296M, SMPTE 425M-B, ITU‑R BT.656 and ITU‑R BT.601.
Audio Meters
Each view, VU standard.
Source Routing
None
SDI Video Sampling
4:2:2 and 4:4:4.
SDI Audio Sampling
Television standard sample rate of 48kHz and 24-bit.
SDI Color Precision
10-bit 4:2:2 and 4:4:4.
SDI Color Space
YUV or RGB for inputs, YUV for outputs.
SDI Auto Switching
Automatically selects between SD-SDI and HD-SDI on each input so that each input can be running a different television standard.
SDI Metadata Support
Video payload identification ancillary data as per SMPTE 352M.
Control
Built in Control Panel
None
External Control Panel
None
Power Requirements
Power Supply
+12V universal power supply included with international socket adapters for all countries. Cable tie point.
Power Fail Protection
MultiView 4 HD settings preserved and restored instantly at power on.
Power Consumption
5.5 Watts
Operational Voltage Range
6 to 36V DC
Physical Specifications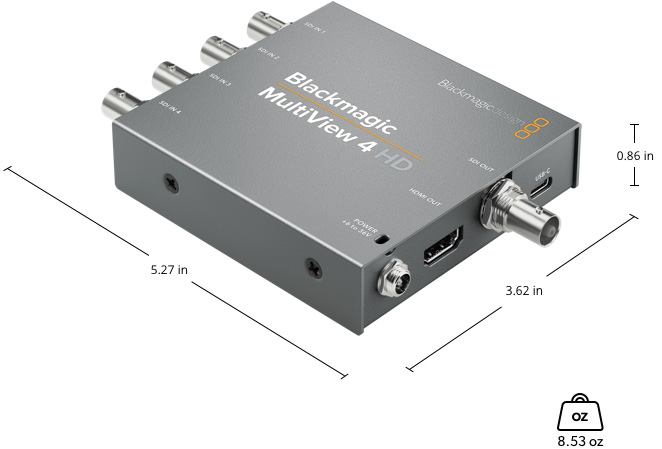 Environmental Specifications
Operating temperature
0° to 40° C (32° to 104° F)
Storage temperature
-20° to 45° C (-4° to 113° F)
Relative Humidity
0% to 90% non-condensing
What's Included
Blackmagic MultiView 4 HD
+12V universal power supply with international socket adapters