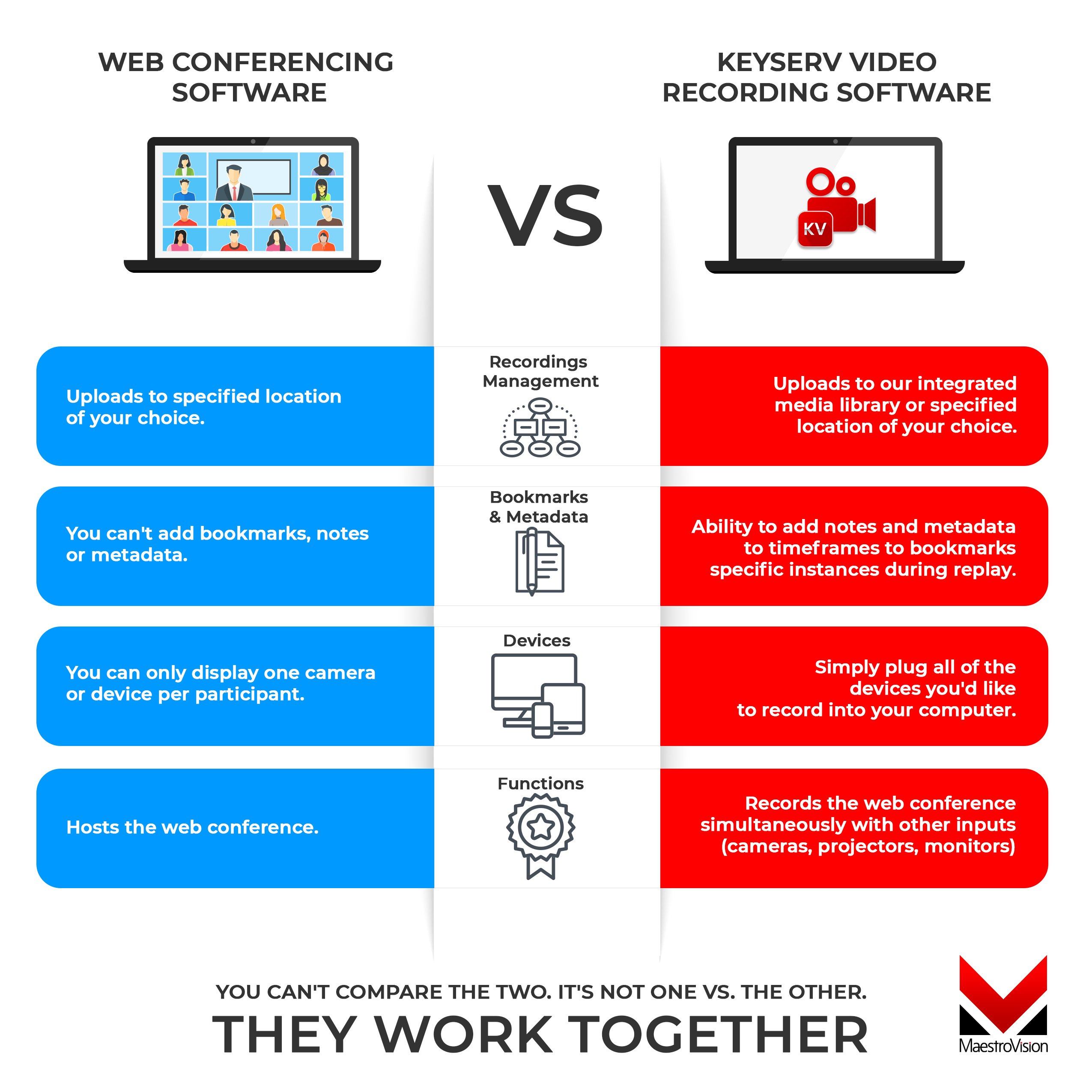 With many businesses transitioning to a remote work experience, it's no surprise that Zoom's growth has exploded in 2020. The company added 2.22 million monthly active users so far in 2020, while in 2019 it added 1.99 million altogether, according to Bernstein Research.
Zoom conferences range across a variety of industries and uses including but not limited to:
Webinars
Virtual Classes
Virtual Court
Suspect Interviews
Business Meetings
Special Interest Groups
Social Gatherings
Family Get Togethers and Events
Religious Services
And more!
Many of our customers have asked how our software differs from Zoom. Our answer: It's not a competitor with Zoom. We don't offer web conferencing software, we offer video recording software. Here are some ways in which you can use KEYSERV VIDEO in correlation with Zoom for the optimal recording experience.
1. Record the web conference simultaneously with other inputs
If you have an external camera, you're unable to record it unless it's plugged into a web-accessible application that can enter the Zoom conference. In other words, each Zoom user (including the host) can only display and record one external input at a time. With KEYSERV VIDEO, users can record several external inputs simultaneously.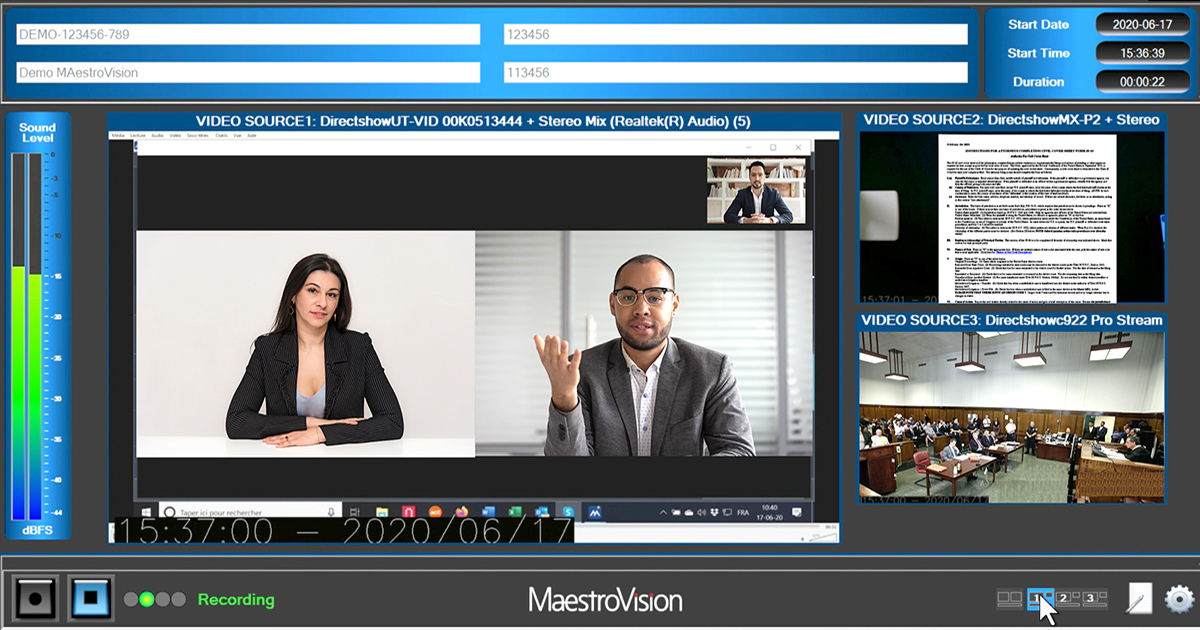 This image displays KEYSERV Video recording the camera in the courtroom, the web conference, and the document camera simultaneously.
2. Add timestamped notes and metadata
Who wants to spend hours replaying a lesson or webinar trying to find the exact moment the speaker made a specific point? With KEYSERV VIDEO, there's no need for scrolling through the recording trying to find the exact moment you're looking for. Users can add notes and bookmarks pinpointing timeframes when specific topics were discussed. Viewers can click on these bookmarks to replay segments of a recording with ease.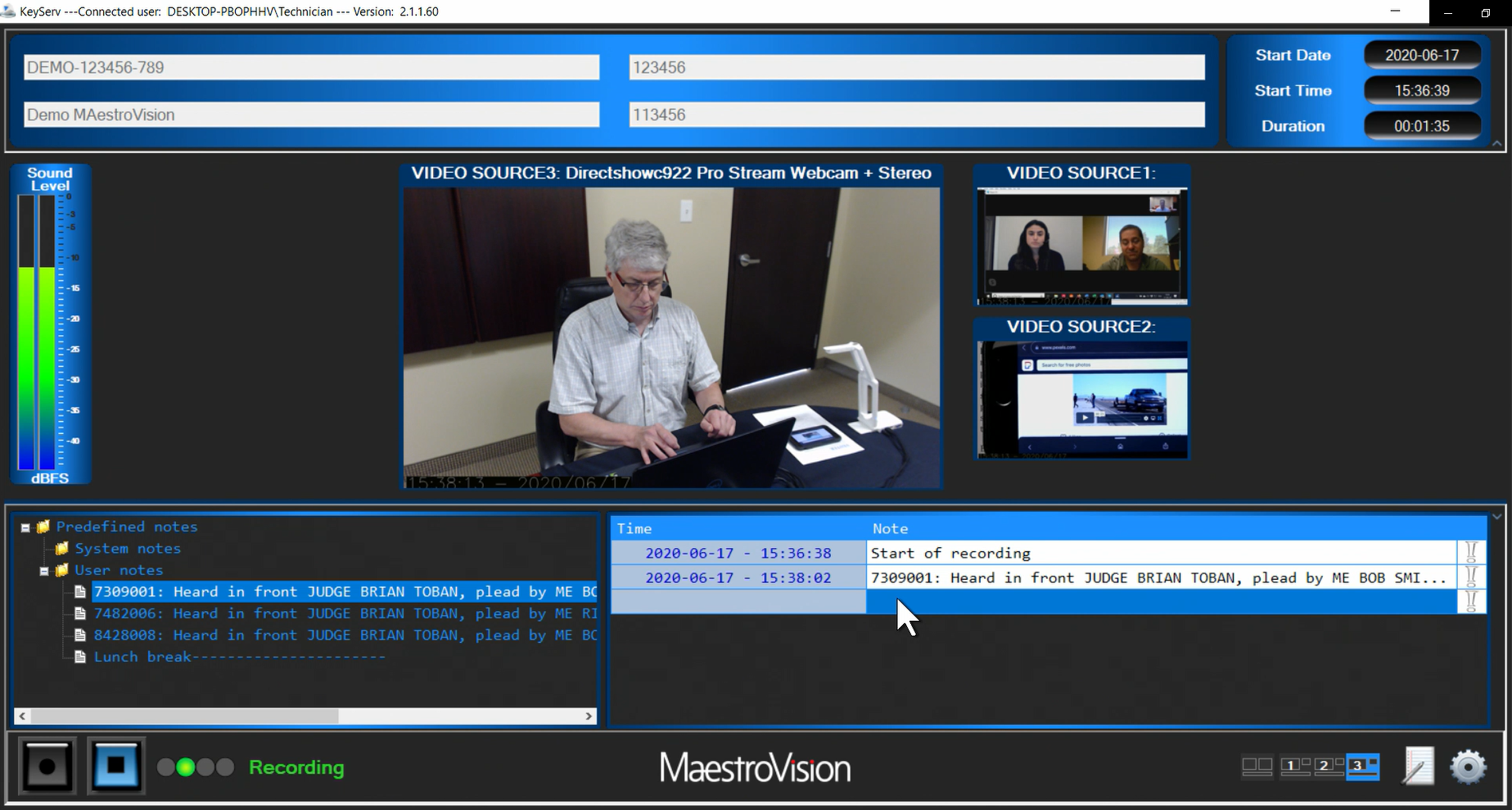 3. Upload to the media library or specified location of your choice
With KEYSERV VIDEO, you can choose whether you would like to export your recording, save it to a local hard-drive, upload it to youtube or the media library of your choice. If you have protected recordings that you would like to ensure security for, our media library VEOTEK may just be the answer. It integrates with KEYSERV VIDEO so all completed recordings are automatically uploaded to the platform. Admins can create accounts with specific user permissions so only specific recordings and features are visible to them. Searching and finding recordings is simple; simply type in the name of the recording, or a keyword from a note, bookmark or metadata to find all relevant videos.
There you have it! 3 ways in which KEYSERV VIDEO integrates with Zoom for the optimal video recording experience. .