Broadcast Automation Software Developed By Industry Experts
The most Flexible, Reliable, Efficient & Cost-Effective Broadcast Solutions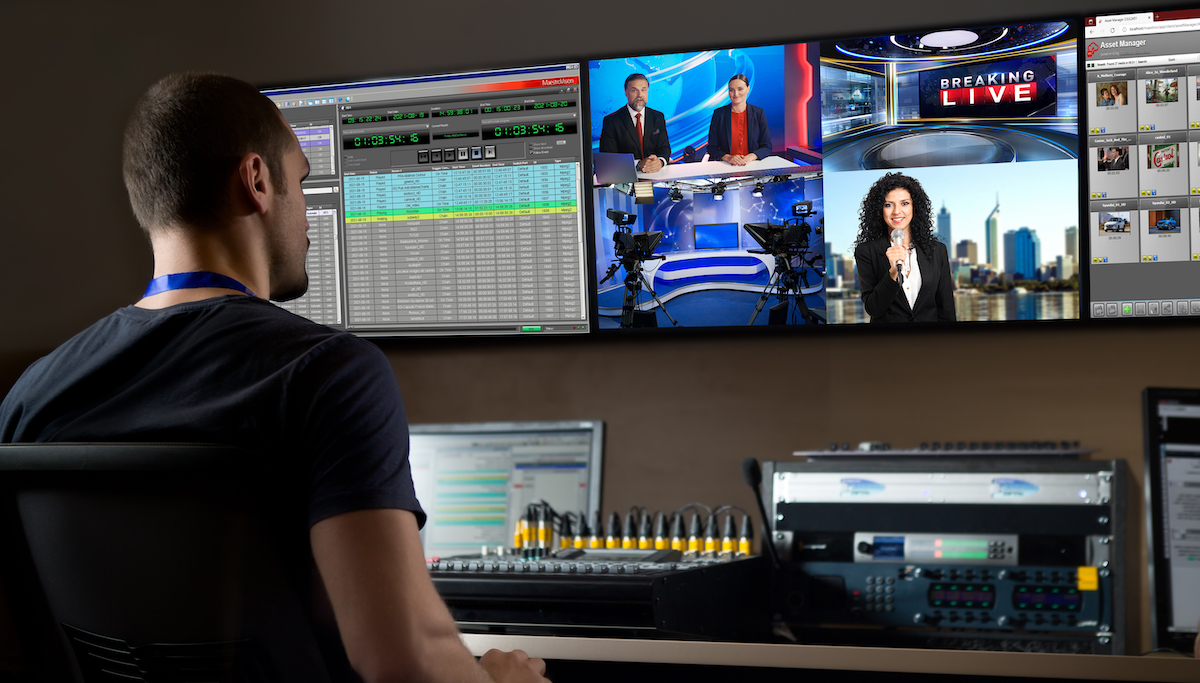 Why MaestroVision?
MaestroVision delivers wide-ranging automation control for virtually every device in your broadcast station. It provides viewers with the best on-air look. Combined with its sister "Media Asset Manager", it is by far the most reliable, flexible, easy to use and affordable automation system on the market. For more than 25 years, MaestroVision has designed broadcast solutions by television engineers with a focus on workflow and reliability.
REAL CLIENT-SERVER APPLICATION
The MaestroVision system is a real client-server application that allows multiple users to simultaneously operate the system. This means traffic, ingest, management and master control operators can all achieve their individual tasks on the same playlist at the same time. MaestroVision's Automation gives users the ability to select media from the Media Asset Manager, and drop it directly onto a schedule, which surpasses all other automation systems.
RELIABILITY
With more than 25 years of experience manufacturing high-quality systems utilized by thousands of broadcasters; it's not surprising that MaestroVision's technology is recognized as the most reliable in the industry. Our systems are designed with the least "bells and whistles" that often weaken applications. We understand it's attractive to have super graphical user interfaces with nice features; but ultimately what's truly important are the functionalities and not the appearance of the GUI. We also only produce our systems utilizing industrial hardware guaranteeing full function for 10+ years.
OPENNESS
Many broadcast product developers build their architecture using proprietary technologies. This restrictive practice makes it difficult for broadcasters to connect or migrate to other manufacturers. MaestroVision developed all of its technology on open architecture. The central database is founded on Microsoft SQL, allowing any other manufacturers to connect to it. Video and audio files are also encoded in standard formats allowing for connectivity with any other applications.
INTEGRATION
There is no doubt that integration is a crucial aspect of a quality broadcast product. MaestroVision has already developed integration with all recognized broadcast manufacturers. The control technologies offered by MaestroVision include Ethernet control, RS-232/RS422, VDCP, VTR Control, GPI and infrared. Our technology can control virtually any controllable devices.
TECHNICAL SUPPORT
MaestroVision is the only company in the broadcast industry that offers a lifetime warranty on all its installations. With a nominal payment of 10% a year, we offer a wall-to-wall warranty for not only the software, but also on all hardware included in your solution. You will never need to buy another broadcast system again. Moreover, the extended warranty doesn't just include software updates, but also hardware upgrades. This means you will not need to trash your equipment if a change in technology occurs. Finally, MaestroVision offers real 24/7 support. What we mean is that one of our technical professionals is always available to answer your call, even after hours.
EXPERIENCE / EXPERTISE
With over 25 years of experience providing solutions to the broadcast industry, MaestroVision has developed incomparable expertise. With thousands of installed broadcast channels, MaestroVision maintains customer systems in large network television stations, news channels, sports channels, movie channels, specialized channels, and community television stations. This broad range of customers insured MaestroVision to understand and accommodate each specific requirement of any broadcast station.
COST-EFFECTIVENESS
Even though MaestroVision offers the most advanced technology, it is in a position to provide the most affordable prices in the industry. We are capable of achieving this because of our position in diverse markets. We all understand that the Internet has had a significant impact on broadcasters' revenues. This also negatively impacted broadcast manufacturers that have had no choice but to increase their pricing or merge (to limit competition) in order to stay in business.
MaestroVision took a direction opposite to other broadcast manufacturers. While continuing development in broadcast technologies, we also invested in other technologies such as classroom recording, interview room recording, courtroom recording, simulation recording and council meeting recording. All of these new markets have allowed MaestroVision to keep its pricing lower than the competition.
MaestroVision is a proud member of the SOCIETY OF BROADCAST ENGINEERS
(SBE) which is an organization devoted to the advancement of all levels and types of broadcast engineering. The SBE amplifies the voices of broadcast engineers by validating their skills with professional certifications.
"The system that MaestroVision implanted here works remarkably. It is efficiently user friendly, it is very robust and it provides stunning Audio and Video properties. We experienced different issues at our station that needed a fast and effective response and MaestroVision has always offered great help and proved to be critical in resolving our issues."
"I don't know of any other company that offers the type of support plan provided by MaestroVision. Someone is available to answer the phone and resolve issues 24/7, even on Holidays. Moreover, every machine or piece of equipment comes with a lifetime warranty. I have been using the system for almost 13 years, and I've never had to pay extra costs for repairs or upgraded replacements. Our system allows us to broadcast content to our viewers 24 hours a day. The dynamic Bulletin Board is fully automatic and provides important information to our community. For M-Pact television, MaestroVision brought about a real revolution."
"MaestroVision's leading role in developing the system made it clear to me that I was unlikely to find this knowledge and experience anywhere else. They not only originally developed the technology but supervised its installation and took the time to instruct myself and my staff on its use and capabilities. The new system's technological advancements have taken our television station into a whole new area of broadcast with custom storage and playout options not found anywhere else."
Ready to get started? Request a demo today!